Not all of this is African tunes but most of it is :)
Some major events have happened throughout May and as much as I tried to stick to the good ol'
Morzenti work ethic
sometimes there is just nothing that can be done to fix a situation that has gone bad. May was one epic roller coaster of emotions and to save all parties unnecessary stress and bad feelings I made the decision to resign from my post with Social Development International. The director and I had contradicting ideas and opinions which began to cause conflict and made not only the workplace uncomfortable but made my job as the Teen Mother Empowerment Project Coordinator impossible. I am sad to be leaving the girls in Muea, Bolifamba and Dibanda - but after meeting with them a final time and explaining the situation, they understood.
Muea teens creating their 'vision board' at the final workshop I facilitated.
I am disappointed in the end result of not finishing what I came here to do. I came here to get solid work experience. I had intentions of improving the sustainability of projects by finding funding so that projects can run more smoothly, setting up a better system of records/project reports so new comers could continue working with ease and working to find qualified and more full time volunteers/interns so that there will be someone working on the project throughout the year. I was hoping to get experience writing annual, quarterly and monthly reports - managing and recruiting local and international volunteers/interns, improving financial accountability and transparency all on top of some project management experience. Lets just say,
J'ai appris des autres lecons.
Since I am no longer part of the SDI work force I have to leave the wonderful host family that I have become so close with.
My beautiful sister Bernadette and her baby Jason.
The Teuma Family (less Jose)
My papa who has left to visit his children in US.
In a matter of days I became unemployed and homeless...
Because of my commitment to Omprakash and the grant that they awarded me, I am tied to working with an Omprakash partner until August 5th. Thankfully, there is
Green Cameroon
in Buea. I met with and spoke to the director of what I can do for them for the next 2 months. They are in the middle of trying to develop and Environmental Education Curriculum so that they can give the packet to local coordinators who are working at primary/secondary schools and brief training so that they are able to teach and continue the class for the entire year without too much outside support. There was also mention of my helping with the coordination/managing of local volunteers and grant research and writing. I will also help with updating/improving their visibility and connectedness to the Omprakash network.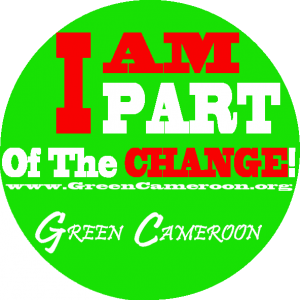 My birthday is coming up (June 27th) and I am trying to plan and epic trip to Adamawa the North and possibly even the Extreme North. I will be traveling alone or with one friend and have connections up there already who will be helping me arrange accommodation and activities. There are several Peace Corps volunteers up there, so as a last resort I can always stay with them.
Below is a map of all 10 regions of Cameroon. I live in the Southwest which is #9. I will be traveling to Adamawa (#1) and the North (#6). I will have to go to Yaounde (#2) to take the train north.
My dear friend and 'sister' Sara has left us this last weekend. We were sad to see her go but celebrated our time together with a dinner and a 'send off' party at our host family's house.
My first and only little sister!
Goodbye SARA dinner party!
Thankfully I was not homeless and unemployed alone... Monica was by my side and we found an a nice little one bedroom apartment not far from the host family. We moved in and have 1 bed and 2 chairs. If you are in the Fako district of the Southwest Region of Cameroon and have some extra furniture, donations are happily accepted.
Living room/salon
Kitchen
Bathroom
Monica and I took a mini-trip to Limbe to just have a day of relaxing and not dealing with stress or people. It was raining the whole drive there and flooding when we got to town. We stayed in the very same taxi we drove there in and decided to just head back to Buea - we came for the sun that was not there. Here in Cameroon, a taxi that sits 3 in back and 1 person in front (not including the driver) actually sits 4 people in back and 2 passengers in front. As we waited at the taxi park for more passengers the taxi driver said "Do you want to drive" because I had moved into the drivers seat just for more space. I said "Of course"! He handed me the key and I started the car. "Wow, a woman can start the car!" he said as he directed me to "Just drive up there then turn around and park." So I did as he said - in the pouring rain I drove down the roan in Limbe scared out of my mind because you never know what other drivers are going to do here - there are no rules. I was on a hill and burned the absolute crap out of his clutch and then safely returned us to the parking spot but not before a guy tried to pass me on the left as I was doing a Y turn and nearly T-boned us :)
You can see my fear...
I miss Canada. I miss ILSC. I miss learning and improving my French everyday.
Helping the family to prepare fufu for a church event!
FUFU
Because of the recent series of unfortunate events here, I am no longer certain that I will be moving to Yaounde in August and am starting to look at going back to school for my masters then continuing with the Peace Corps. Or doing AmeriCorps then Peace Corps then grad school. Either way, life will go on! I am comfortable with my place 'in the middle' of this fork in the road... not knowing what to do or which direction to go. I know I have all the tools I need and I know I will figure it out when it's meant to be figured out.
Soon to come in the next post:
-Mbongo Chobi recipe and video
-Elephant Dance/Mali videos and ethnographic field report